Export Google Maps Saved Places Lists
Search for how to export your Google Maps Saved Places Lists, and you'll get a cornucopia of out-of-date suggestions, wrong answers, and frustrating replies. It's not in Google's favor to have this well and clearly documented, and they've done a fine job creating friction for anyone trying to migrate their information out. Fortunately, thanks to Google Takeout, it really is possible.
Here's how to migrate your Google Maps Saved Places Lists — and three ways that won't work, but pull other interesting Goole Maps data as well.
Export your Google Maps Saved Places Lists
Head over to Google Takeout.
There are 49 categories of data that as of today you can export from Takeout. Use the helpful "Deselect all" link to unselect them, and scroll down to…
Takeout -> Saved. This super confusing option is the only one that support exporting Saved Places Lists.

When you export, you'll receive a CSV file for each of your Saved Places Lists. The data looks like this: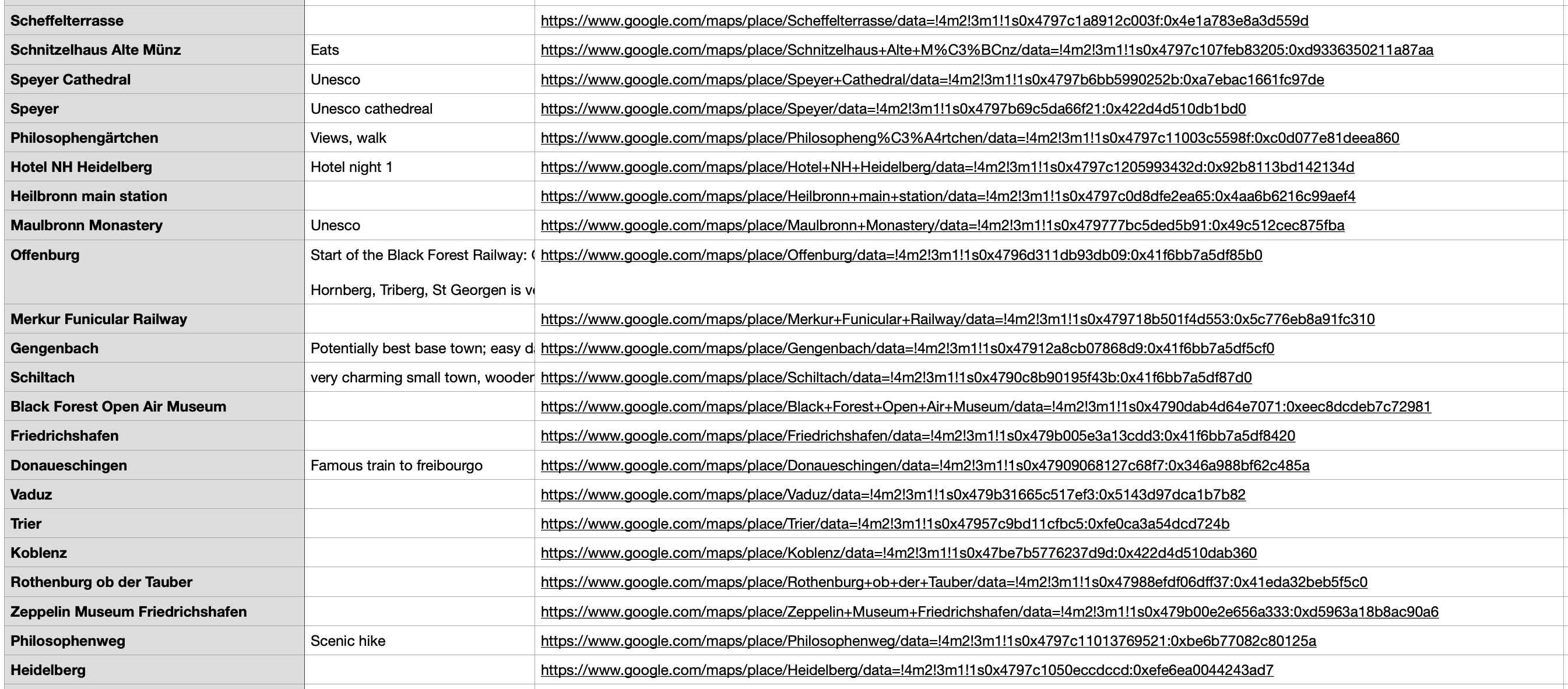 Any notes you wrote in your Saved Places List will be exported, but addresses and lat/lon GIS details aren't. But this is a great start to owning your own GIS data!
Other Google Maps Takeout Exports
There are three other Takeout export types that provide mapping data, but don't include your Google Maps Saved Places lists.
Takeout: Maps (your places)
This Takeout contains all your place reviews and your starred places, in GeoJSON format. Despite the name it doesn't include your saved places lists.
Takeout: Maps

This Takeout includes labeled places, if you use that feature — I like it for "Home," "Office," etc. It also includes a ton of preferences, uploaded photos, and more. See the preferences to configure what you want to export: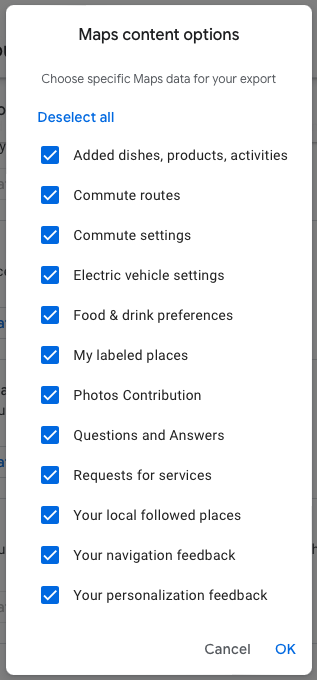 Takeout: My Maps
The confusingly named Google My Maps is Google's efforts enable its customers to create custom maps. You can export these maps, layers, and more through this Takeout option.

---
Questions? Comments? Find me on Twitter/X @nickgracilla, or on Mastadon @nickgracilla.